Is your baby's crib a "dangerous" place?
How adorable is it to see a toddler trailing a worn-out old blanket behind him like Linus from Charlie Brown? Or clutching a faded pink elephant with a missing nose? When my son was little he had a stuffed giraffe, and he used to rub the tag on its belly to soothe himself. He wore that tag right out!
Some parents say you shouldn't let your child get attached to a blanket or a "lovie," but I disagree. There are plenty of experts who say it's just fine. Dr. Sears, for instance, says, "Don't worry that her attachment to her blanket may reveal some underlying insecurities or may slow her independence. This is simply not true. An attachment to her blanket is not only normal, it's healthy."
Even adults form attachments to things for a feeling of security and peace. For one person that might mean they can only have their morning cup of coffee in that special mug they got from Mexico, and for another it might mean wrapping herself in her cozy grey sweater whenever she comes home from work. I even know a woman who still keeps her childhood teddy bear on her bed, even though she has children of her own now!
A study in the Journal of Consulting and Clinical Psychology in 2000 showed that kids who had their security blankets or toys with them at the doctor's office experienced less anxiety, according to their recorded blood pressures and heart rates.
There are so many things that can cause kids stress, and bedtime is definitely one of them. It's a given. Why not help any way you can?
So when's the best time to introduce a lovie?
The American Academy of Pediatrics warns that all soft objects like stuffed animals, as well as any loose bedding such as pillows, blankets, and bumpers, shouldn't be allowed in the crib until a baby is at least a year old.
HOWEVER…
I'm here to tell you about an awesome product that I LOVE, and it's perfect for parents whose babies aren't old enough for a blanket or a soft toy. It's called the Bitta Kidda Wearable Lovie, and it's a genius idea. Just click this link to get it with a discount. Enter in the code: SLEEPSENSE10. It's good for 10% off your first order. This is in addition to the 25% off site-wide sale they have open to all customers right now! Get it here.
It's basically a cozy sleeper with small flaps that your child can grasp and play with to soothe himself. Because the baby is actually wearing the sleeper, there is so risk of choking or suffocating whatsoever, so it is much safer than putting him to bed with a blanket or a big stuffed panda.
Another bonus is that it can't roll away out of grasp or be tossed out of the crib (that's always a fun stage). Your child just has instant access, which is really cool when she stirs awake for a few minutes at night…she can just reach down and play with the fabric flap to calm herself.
The best time to try a Bitta Kidda is when your baby is from three to four months old, right up to twelve months. You just want them to be old enough that they are starting to grasp and play with things with their hands.
So go ahead and let your baby get attached! Unless you're willing to throw out that old Van Halen t-shirt from the 80s or your lucky socks or that lavender heating pad you like to cozy up with in the winter, you probably already know the value of a little extra comfort. :)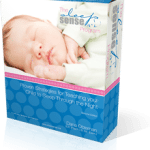 Also, if you're looking for a complete, step-by-step guide
that will help you get your baby or toddler sleeping straight through the night check out The Sleep Sense Program.
Learn More

This is the same system that has been used by more than 109,000 parents,
and it's backed by my famous "no-hassle" guarantee.
If you're not 100% happy with The Sleep Sense Program — for any reason at all — you can email custserv@sleepsense.net or call 206-923-9489 for a prompt, polite refund!