Balancing Attention Between a Toddler and a New Baby
A new baby in the family can cause a lot of new feelings for a toddler. Suddenly having to share Mom's attention with someone else is usually their first encounter with jealousy, and they can act on it in some unpredictable ways. Today, I'll be talking about some effective ways to keep the peace after bringing home a newborn and reassuring your toddler that they're still loved and appreciated.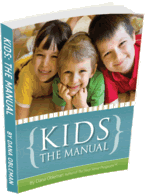 Are you tired of butting heads with your little ones? Looking for a better way of resolving conflict with them? I've got just the thing!
Kids:The Manual is filled with simple, step-by-step solutions to the problems that parents face with their children's behavior. End the frustration for both you and your child, and discover the surprisingly easy path to a conflict-free relationship with your kids!