When Can I Start Potty Training?
Moving from diapers to the potty is a big step, and one that you want to be sure both you and your little one are ready for. Today, I've got some tips to help you determine if it's a good time to make the transition.
Rather read than watch? Click here.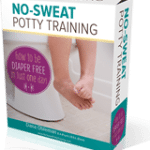 Why wait? Try out my
No-Sweat Potty Training Program
and get started today! The sooner you get the process started, the sooner you can bid farewell to diapers and baby wipes, and you and your child can both celebrate your new-found independence.