Dealing With Sibling Rivalry
When you have multiple children, you're going to experience some competition between them. This can manifest in a number of different ways, and the truth is, you're never going to eliminate it.
Sibling rivalry is just a fact of life when you have more than one child. Knowing how to deal with those situations is essential to minimizing the tears and avoiding future occurrences, and I've got some great tips for you on how to do just that.
Rather read than watch? Click here.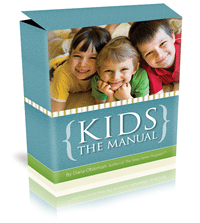 If you're struggling with your child's behavior issues, or just need a hand correcting a few minor habits, check out Kids:The Manual. It's a complete behavior resource for kids aged 2 – 12, and it can help you eliminate problem behaviors in your kids in as little as 2 days!