My Toddler Keeps Playing When She Should Be Sleeping
Even if your little one is a superstar sleeper, you might be surprised one night to hear the sounds of singing or babbling over your baby monitor at 2:00 in the morning.
It's not nearly as concerning as crying, but it can still leave parents wondering what to do in order to get their little one back to sleep.
In today's video, I'll explain why this always happens around the same age, and what to do when your little one suddenly starts breaking into song when she's supposed to be asleep.
Rather read than watch? Click here.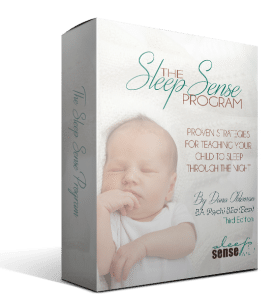 If your baby, infant or toddler is having trouble sleeping through the night, help is just a click away! The Sleep Sense Program has helped over 57,00 parents to get their kids sleeping 11-12 hours through the night AND taking long, restful naps during the day. If you're ready to get started today – I'm looking forward to helping you!