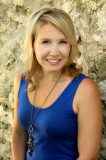 Megan Reeve
Owner - ABZ Sleep Consulting
Guelph, ON, Canada
My name is Megan Reeve and I am the owner of ABZ Sleep Consulting. If bedtime battles and night wake-ups are a regular occurrence in your house, then you've come to the right place. As a certified Sleep Sense Consultant, I provide one-on-one support to families who are struggling with their children's sleep.
Why am I a sleep consultant? Because I've been there. Sleep deprived. Living on 4-5 hours of broken sleep a day. Convinced I was doing something 'wrong' and feeling no confidence in my ability to be a good Mom.
My husband and I hired a sleep consultant when our daughter was 4.5 months old and our lives were changed. Not only did we gain a better understanding of what healthy sleep looks like and the science behind sleep, we gained a new confidence in the choices we were making. For us, working with a sleep consultant was like receiving postnatal care we didn't even know was available.
After our experience, I knew I needed to pursue this career and help other families. I believe a well-rested family is a happy family and I am committed to helping my clients reach their sleep goals. I look forward to helping your family get the good, healthy sleep they need. Contact me today for a free 15-minute phone consultation.