This Sounds Awful, Right?
How'd you like to spend the next 2 months engaged in a "battle of wills" with your toddler?
A battle where, 10 or 20 times per day, you try to force your child to do something he doesn't want to do? And if things don't go according to plan, you end up having to clean up some really nasty messes?
Sounds awful, right?
Well, this is exactly how most parents approach potty training. Heck, that's pretty much the way it went with my first son!
But there IS a better way.
Step One: Use a little "reverse psychology" — and flat-out bribery — on your toddler. I've given you everything you need for this step right here in this FREE download.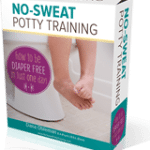 Step Two: Make a plan — and stick to it. You can get everything you need for this step right here… but only for the next 2 days!
I used these methods with my 2nd and 3rd children and it was SOOOOO much easier on everyone!
To happy families!