Strange Reasons to "Sleep Train" During the Holidays
This may sound a bit strange, but it's my opinion that the holidays are the very best time of year to "sleep train" your child.
I know, I know. Things are busy, you've got shopping to do and parties to go to… But here are THREE reasons why you should consider this:
Reason #1:
The Christmas season is the ONE time of year that pretty much everyone is able to take a few days in a row off work. This is a big one, because it frees up both you AND your partner to be able to fully participate in the process.
Translation: Your spouse can't insist that he/she has to wake up early to go to work!
Reason #2:
You've usually got a lot of friends and family around… and they can help you out! If your sister is staying with you for a couple of days, feel free to ask her to take the baby out for a walk while you grab a nap during the day.
Tip: I've found that friends and family respond really well to something like this… "I've been doing some research, and we've decided to make some improvements to our son/daughter's sleep. It should only take a couple of days, but do you think you could help me out by taking care of _________?"
(Just fill in the blank with a small job or two that would make your life easier. Maybe get them to make dinner for you, or do the laundry, etc.)
Reason #3:
I've just released 3 updated versions of The Sleep Sense Program… and I'm discounting ALL of them for people who are planning on getting started during the holidays!
(These packages include everything you'd ever need to get your child sleeping 11-12 hours straight through the night in their own room. You have access to books, how-to videos, e-mail support, and even weekly telephone calls with me personally.)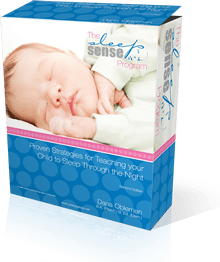 And — for the next 10 days only — you can get started for as little as $14 by using this special link:
The Sleep Sense Program Holiday Discount
(Expires December 19th!)
And don't forget that you're always protected by the fairest guarantee I could think of: If you decide (for any reason) within one year of purchase that The Sleep Sense Program isn't everything you'd hoped for, just email custserv@sleepsense.net or call 206-923-9486 for a prompt, polite refund.
Please remember to use ONLY the link because this offer isn't advertised on my website. In other words, the only way to get the discount is to go here:
The Sleep Sense Program Holiday Discount
(Expires December 19th!)