Sweet Dreams, Mom and Dad - New Year's Sleep Resolutions for Adults!
As parents, we're responsible for work and household chores and raising children, so often sleep is the very last thing on our list of priorities. Many of us can become tired and overwhelmed with the marathon that life with young children can be, but what a lot of us don't realize is that if we move sleep up on our list, we might actually feel better! Being rested gives us more energy and improves our mood, which in turn helps us get more accomplished during the day (and cheerfully, too!).
Tips for making sleep one of your New Year's resolutions: The six-week challenge!
Give yourself 8 hours of sleep time and stick to it, no matter what. That means even if your favorite show is on, or you're dying for a bubble bath, or you and your spouse finally have some time alone to discuss the vacation budget. 8 hours is the magic number for most people, yet surprisingly, many adults stay up later than they should and only get 6 or 7 hours a night.
Set a reasonable bedtime and stick to it for 6 weeks, even on weekends.  This means if it takes you 30 minutes to relax and fall asleep, you need to plan your bedtime accordingly. It might mean sacrificing some of the things you like to do at night, but your body and mind will thank you for it.
Get up at the same time every morning for 6 weeks. Yes, this means on weekends too. If you're getting enough rest during the week there's no reason why you should need to sleep in on the weekends. And this will give you more time to enjoy your family and get tasks accomplished, too.
Setting the Mood
If you're not used to getting to bed at a reasonable hour every night, you might need some help. Just like children have a bath and a story to relax them before they go to bed, adults can benefit from a routine too. Here are some things you can do to help yourself get ready to fall asleep.
Create a 30-minute bedtime routine. One example could be a 20-minute hot bath followed by 10 minutes of reading in bed. Try to stick to the same order every night.
Turn down the house lights an hour before your set bedtime. This will help stimulate melatonin and get you feeling sleepy.
Turn off all electronics an hour before bed. This will also help with melatonin and help your brain slow down so you're not worrying about the work email you just read 10 minutes before bed or the terrible story you just heard on the news.
Good luck! I'm willing to bet that after trying this for 6 weeks, you will feel better and want to stick to the program. By getting enough sleep every night, you're giving yourself the gift of good health and happiness and the ability to take on all those exciting daily challenges.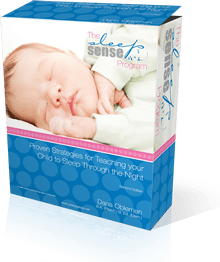 Oh, and if the real reason you're tired all the time is because you have to get up 2 or 3 times a night with your baby or toddler, make sure to check out The Sleep Sense Program. It gives you everything you need to get your child sleeping 11 – 12 hours straight through the night!