What is the #1 Parenting Mistake You See People Making?
Given how many families I've worked with in my career, people often ask me, "What is the most common, most substantial mistake you see parents making?" The answer, without a doubt, is failing to explain and administer consequences. We can tell our kids to stop tearing around the house, get ready for bed, or clean up their rooms until we're blue in the face, but if we fail to provide them with a clear explanation of what the results will be if they don't, we're not going to get the results we're after.
Rather read than watch? Click here.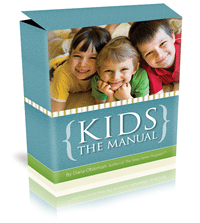 Young kids are in a perpetual state of experience and discovery, which is great, most of the time! However, that typically includes the occasional experiment with disobedience and undesirable behavior. For some great advice on the best way to dissuade these, check out Kids: The Manual. It's a comprehensive, easy-to-follow guide to preventing problem behaviors in children aged 2 – 12. Guaranteed!