When Should I Nighttime Potty Train?
Potty training your child when they're awake during the day is a challenge in its own right, but getting them to use the bathroom when they wake up in the night is a different story altogether.
It can be a bit confusing to know how to proceed in this stage. We don't want to encourage our little ones to go in their diaper, but we don't want to put any unreasonable expectations on them either.
So today, I've got some great tips to help you recognize when your child is ready for nighttime potty training, and a little advice about whether or not to take that first step and ditch the diapers in the night.
Rather read than watch? Click here.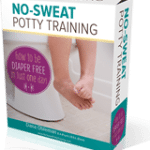 Why wait? Try out my No-Sweat Potty Training Program and get started today! The sooner you get the process started, the sooner you can bid farewell to diapers and baby wipes, and you and your child can both celebrate your new-found independence.