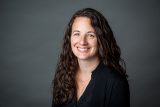 Amanda Stairs
Sleep Boss Inc.
Fredericton, New Brunswick, CA
I am a daughter, sister, niece, aunt, registered nurse, wife, mother and now certified pediatric Sleep Sense™ consultant. In that order. These roles have something in common, somewhere they have me helping others. I love it! Life is too short to not help when and where we can.
Life may not feel anything but long when you can't get adequate, restful AND independent sleep. I want to help families discover that being a parent doesn't have to mean exhaustion… at least it doesn't have to mean sleep deprivation. Children can learn anything, good or bad. That goes for sleep habits too. Let me help your family develop a healthy relationship with sleep.
This program works! My husband and I have a deep love for Sleep Sense™ as we have two little boys that aren't quite a year and a half apart. The oldest being two and a half AND they room share. You may think, "sounds like a nightmare," but with two boys that were taught how to sleep, life is pretty fantastic!
Sleep is the best, let's get you some.