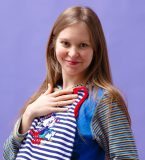 Elena Werner
Elena's Sleep Champions
Luxembourg
My name is Elena Werner. I am a loving mother of two beautiful children Diana and Boris. They both had difficulties with their sleep and I am really happy that I have discovered the Sleep Sense Program that completely changed our life. From a sleep deprived family we turned into energetic people who can enjoy life to its most because we are all very well-rested.
In 2016 I started my own company, Elena's Sleep Champions, and now I am willing to help all of you to get your sleep back. Having undergone a comprehensive training with Dana Obleman, I possess the very best knowledge to help your little ones to become real Sleep Champions!
Simply trust your baby!
I am based in Luxembourg and work with parents from Europe and Russian speaking countries.