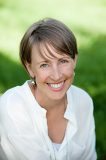 Hilary Cole
Hilary Cole Pediatric Sleep Consulting
St John's, NL
Helping little ones develop healthy, independent sleep skills they will take with them throughout their lives is my absolute passion. And I love sharing in the relief and joy parents feel when the whole family is finally sleeping through the night.
My own struggles with infant sleep led me into the overwhelming world of sleep literature and to eventually discover the SleepSense™ program. The incredible, lasting success I experienced with my first child sparked my desire to help other babies and families gain life-long, healthy sleep habits. Using this program also helped me get my second baby off to a great start.
Before sleep coaching, I spent 15 years working as a physiotherapist; this has given me a healthy respect for the role of research in helping parents make the best decisions for their family. My training in meditation, yoga and Buddhist philosophy have helped me realize the importance of compassion and mindfulness when working with these little beings; it's also given me tools I am happy to pass on to families coping with the stress that comes with sleepless nights.
Thanks to technology, I can create a customized sleep plan for your baby and work closely with you wherever you call home.