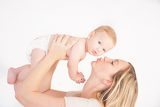 Jessica Rojas
Barcelona, Spain
Hello, my name is Jessica Rojas, owner of THE SLEEPING BABY PROJECT.
Also I'm a mother and know how completely frustrating sleep struggles can be – I have been there!
Like most new parents I thought my little boy would go to sleep easily if he was tired enough.
How wrong I was!
Sleep deprived and desperate, I searched the whole internet for information and read every book I could find about baby sleep issues in order to help my little one to get his well needed sleep (and mine!).
After 7 sleepless and insane months, my husband and I were hitting rock bottom and finally hired a sleep consultant. This was a life changer for us!
Even with my previous acquired knowledge of what I should be doing, it took our consultants guidance and help to consistently put it all in to play.
After only a few days our baby boy slept through the night – 12 hours straight!
Now, being a sleep consultant myself, I'm happy to be able to share my knowledge and experience with parents and transform their lives (as was mine) by helping them get a good night sleep!
I believe that every child and their family is unique and there is no one size which fits all!
I would love to have a chat with you and talk about how I can help make things easier for you and your family!