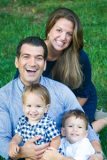 Karolyn Kritikos
Cincinnati, OH
Hi my name is Karolyn Kritikos; the founder of Sleep and Sensibility.  I'm also a wife, mother of two and fixer of all things broken in our house.
I believe that sleep is as essential to our being as food and water. However, it is so often overlooked mostly due to social pressure to somehow do it all. As a result, we end up walking through the child rearing years in a haze.
Let's face it; without sleep, we aren't functioning at our best and neither are our children. When you work with me, I'll eliminate the fear and uncertainty of implementing a sleep plan and gently show you how getting the entire family the sleep they need won't leave you feeling guilty, but feeling empowered to face another day head on.
Let's rise with more energy, more mindfulness, and more excitement. With Sleep and Sensibility your family can rise and really shine!