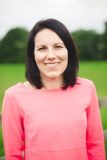 Lynsey Mannion
Clitheroe, Lancashire, UK
Hi, my name is Lynsey, and I'm a Certified Child Sleep Sense™ Sleep Consultant. I would love to help you transform your lives with the gift of independent sleep for your little ones!
As a Midwife, and Chinese Medicine Acupuncturist, I felt well informed and prepared for pregnancy, labour and the early post-natal period, and excited for my new role as a mother! 8 months into motherhood I hadn't slept any longer than 3 hours and was at my wit's end! I followed Dana's Sleep Sense™ program and it transformed my life! My passion for sleep training was ignited – I wanted to tell everyone: parenthood did not equate to no sleep. "Flutterby Sleep Consultancy" soon followed after my training.
I am thrilled to now give other families the tools to teach their children to sleep well and I revel in having such a positive impact in their lives. Helping parents regain some control over their days and nights, ensuring everyone is happy and more rested after we have worked together is incredibly satisfying. The only grumble I hear is that they wish they had found me sooner!
I think this support is a piece of the "parenting puzzle" to help people cope in what can be an isolating time, where lots of people have recommendations, but very few have actual solutions. I have the solutions! I look forward to passing them onto you and guiding you through the process of implementing them and gaining the great night's sleep you all deserve.