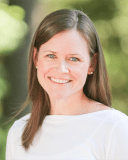 Melanie Campbell
Sweet Home Sleep Solutions
Montgomery, AL
Hello! I am Melanie Campbell, founder of Sweet Home Sleep Solutions. I am a mother of two and an Army wife. I was born and raised in Alabama and have since also called Arkansas, Texas, Ohio, and Georgia my home. With a bachelor's and master's degree in education, my passion lies in working with children and their families.
We love our children, but so desperately need rest, too! I can honestly say that I know what it is like to have tried everything and still be sleep deprived. My Sleep Sense journey began with my firstborn, an 18-month old, still waking 5-6 times a night. Within a night (yes, just one night!) of beginning the program, my daughter slept through the night. As the entire dynamic of our home began to change, I knew that I had to help other families find themselves again. I fully believe in the gentle, yet effective methods of Sleep Sense.
No matter where your home is, I would love to work with you. If you feel like you have made mistakes along the way, you are not alone! We all do what we can to survive. Let's work together to bring back the sleep that you desperately need. We'll address your day, naps, and nights. Together, we'll make rest a norm in your home!