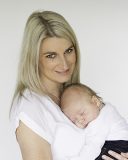 Richelle Franklin
Sleep Right Tonight
Melbourne, Victoria, Australia
I'm excited about helping your family begin their journey to a full night's sleep.
As a Mother of two young children, I remember all too well that overwhelming feeling of a baby who doesn't sleep well.
At some stage we've all had that dreaded feeling of "how am I going to do this, and when will I sleep again?" After the Sleep Sense Program changed my family's life, I made it my ambition to help other families achieve that feeling of a great night's sleep.
I have a Bachelor of Nursing and a Post Graduate Diploma in Midwifery. For over 14 years I have worked as Midwife in both Public and Private Hospitals in the Birthing Suites and Post Natal wards.
I am looking forward to working with your family and to support you through your sleep journey.