3 Ways to Stop a Toddler Tantrum
You'll probably never completely avoid the toddler meltdown scenario, (if you do, myself and every other mom on earth wants to know your secret!) but there are ways to keep them as short and civil as possible. Today, I've got a few tips for helping to settle your little one when they start to go off the rails.

Rather read than watch? Click here.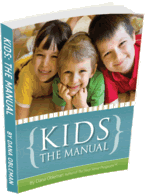 Are you frustrated (and sometimes embarrassed) by your child's tantrums and outbursts… whining and fighting… or other "bad" behavior? Does your house often feel like a battlefield between you and your children? Are you looking for a better way to resolve conflicts with your kids? Check out "Kids, The Manual" and by following some simple, step-by-step methods, most of these problems can be quickly and calmly eliminated from your home… often in as little as just 2 days!