Bedtime Routines
We've all got a little ritual we go through when we're putting our kids to bed. We obviously need to get them into appropriate sleeping attire, get their teeth brushed, change their diaper and so on, but what a lot of people don't realize is that a bedtime routine is a really effective tool for getting your baby to sleep.
When done right, the bedtime routine helps baby's brain to realize that it's almost time for bed, which prompts melatonin production and helps get your little one ready for a nice, easy transition into sleep.
In today's video, I'll give you a few tips for creating an ideal bedtime routine that will kick those sleepy hormones into gear and help set you and your baby up for a successful snooze night after night.
Rather read than watch? Click here.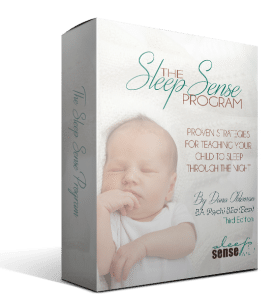 If your baby, infant or toddler is having trouble sleeping through the night, help is just a click away! The Sleep Sense Program has helped over 57,00 parents to get their kids sleeping 11-12 hours through the night AND taking long, restful naps during the day. If you're ready to get started today – I'm looking forward to helping you!