How to Help Your Kids Get Along
Siblings are going to have their differences and disagreements from time to time. It's a natural part of growing up together. But that doesn't make it any easier as a parent to listen to them arguing, or having to intervene in their disputes.
In today's video, I've got some tips that will help you enable your kids to find peaceful resolutions to their differences, without you having to play the disciplinarian, and allowing them to learn how to resolve conflicts on their own.
Rather read than watch? Click here.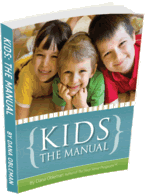 Are you tired of butting heads with your little ones? Looking for a better way of resolving conflict with them? I've got just the thing!
Kids:The Manual is filled with simple, step-by-step solutions to the problems that parents face with their children's behavior. End the frustration for both you and your child, and discover the surprisingly easy path to a conflict-free relationship with your kids!