Improve Your Baby's Bedtime Routine with This!
There are more and more interesting products for babies and toddlers popping up these days! This makes my life a little more exciting, because I get to investigate them and see which ones might be a good fit for all the parents whose kids are having sleep issues.
Some of the products are useful and can help make life a lot easier and more convenient, and some are just going to eventually take up extra space in your closet.
With fears about SIDS, many parents are very cautious about what they keep in their baby's crib, and for good reason. Professionals, myself included, always advise against soft pillows and fluffy blankets, as well as stuffed toys that could be suffocation hazards. They also advise against baby's sleeping on their tummies, and this advice has been the single-most reason for the drastic reduction in SIDS deaths in recent years.
So in my books, a safe product that can help keep baby on his back while he sleeps is probably a good idea. That's why I think the Slumber Sleeper™ is a cool idea. Basically, you get three things in one. It is a mattress protector, a fitted sheet and a "sleep sack" designed to help keep your baby centered on his back in the crib while being snug and warm. It's similar to the idea of swaddling, and it will restrict baby's movements somewhat and keep him in a position that's safer for him. The older the child, the more able they will be to move around.
Here's what I like about the Slumber Sleeper:
I think this product will work really well for your baby if you start using it early on. I really like that it can help prevent a baby from rolling onto her tummy. I also like that it can help prevent sleep challenges that end up happening during developmental milestones like sitting or standing up, when baby is more reluctant to lie down and go to sleep because she wants to try out her new tricks. This product can also prevent active toddlers from trying to jump out of the crib, which is a big bonus.
However, I don't think it will work unless the child is used to the Slumber Sleeper being part of the bedtime scenario. I highly doubt your rambunctious 18-month-old will be impressed with being tucked into a special blanket that restricts movements when he's never experienced that before. If you're going to try it, start it very early on so your baby is used to that snug, wrapped-up feeling when he goes to sleep. That way when he's older it will not be some foreign thing trying to stop him from leaping out of bed and running down the hall to join the fun with the adults in the living room every five minute.
In short, this is a great product to help prevent potential sleep issues, but if you already are experiencing issues with an older child, it's probably not the solution. Get the Slumber Sleeper here!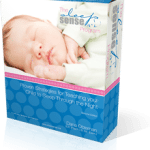 Also, if you are wondering HOW you can get your baby to sleep check out The Sleep Sense Program.  It is a step-by-step program designed to help you get your baby sleeping 11 – 12 hours a night. Say goodbye to sleepless nights by clicking the button below.
Have you already tried The Sleep Sense Program and love it?  Now you can give the gift of sleep to someone you know! Introducing…
 The Sleep Sense Gift Card!