is your child a "juice junkie"?
My mom AND my sister are both going to kill me for telling this story, but here goes…
Back when my sister was a toddler, she was a "juice junkie."
She LOVED apple juice.
In fact, she loved it so much that she pretty much refused to drink anything else.
She didn't even like milk.
And water?
Forget about it.
It turns out she loved apple juice SO much… that it started rotting her four front teeth.
One day, my mom got fed up and took her to the doctor and asked what she should do.
She explained to the doctor that my sister would ONLY drink apple juice… and that she had tried giving her other things to drink… and that she was really concerned about her teeth but just didn't know what to do.
When she was finished explaining the situation, the doctor just started at her for a few seconds.
And then, he finally said:
"Well, who keeps buying all the damn apple juice?"
That's some old-fashioned "prairie doctor" wisdom for you! :)
Anyway, the reason I tell this story is because I was just remembering how frustrated I was with my own son's diet back when he was a toddler.
He drank milk instead of juice, but the REAL problem was that barely ate anything. Crackers and peanut butter were the only things he would eat for DAYS at a time.
It was one of the biggest challenges I've ever had as a parent because he was so small for his age, and it seemed like he was wasting away… but he just wouldn't eat anything!
And because of this, we would always put pressure on him at mealtimes in an effort to get him to try new foods, in the hopes that he would stumble upon something he actually liked.
Well, for those of you out there with picky eaters in the house, you know how this approach usually turns out.
Mealtimes turned into a battleground, and often ended up with my son in tears.
Anyway, one day when I'd finally had enough of the whole thing, I decided to go out and hire a nutritionist who specialized in working with fussy eaters.
Her approach was pretty unique, but we decided to give it a try, and you know what happened?
Within a week, MY son… the same little guy who refused to even TRY things that every other kid in the world ate (like french fries), was cautiously tasting things like fish and broccoli!
And within TWO weeks, his whole attitude about food had completely changed. Instead of seeming like he was "scared" of new foods, he was actually excited when he got to try new things.
Anyway, I was SO impressed that I immediately hired that nutritionist to work with me on creating a step-by-step, do-it-yourself guide for the parents of picky eaters.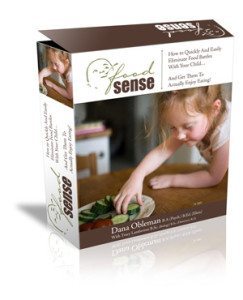 It's called "The Food Sense Program" and it lays out a complete action plan on how to make this same kind of transformation with your child.
And — for the next TWO days — you can get it at a great discount through this link:
Like me, most parents start seeing real results very quickly. And since The Food Sense Program is backed by my famous 12-month no-hassle guarantee, you can try it out for yourself and SEE how well it works!
The catch?
Like I said, this discount offer is only good for the next two days, and expires at midnight this Thursday (March 5).
You can get it right here:
To healthy families,

P.S. Make sure to use the links here to get your copy. The price MUCH higher is you buy anywhere other than these links: