Managing Transitions
Toddlers are a sight to behold when they're doing something they enjoy. They take an amazing amount of pleasure from some of the simplest things, whether it's splashing around in the tub, playing peek-a-boo, or whatever activity they've gotten themselves into for the moment.
The downside, of course, is that when it's time to leave or change up whatever they're into, they can get pretty upset about it.
Today, I'll give you some tips for managing those little transitions from playtime to dinnertime, or bathtime to bedtime, with a minimal amount of fuss and resistance.
Rather read than watch? Click here.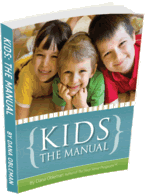 Are you tired of butting heads with your little ones? Looking for a better way of resolving conflict with them? I've got just the thing!
Kids:The Manual is filled with simple, step-by-step solutions to the problems that parents face with their children's behavior. End the frustration for both you and your child, and discover the surprisingly easy path to a conflict-free relationship with your kids!