How Much Screen Time is Too Much
I've never met a toddler who wasn't fascinated by phones, tablets, and TV. (The same could probably be said for adults, now that I think of it.) And that's not necessarily a bad thing! Children's programming can be tremendously beneficial for kids, and tablet and phone games can be very educational and fun at the same time.
But screen time can get out of hand if left unchecked, and that can have a serious impact on your little one's sleep. I'll tell you why, and give you some tips for setting reasonable limits on your child's iPad and TV time in this week's video.
Rather read than watch? Click here.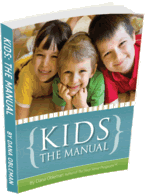 Are you tired of butting heads with your little ones? Looking for a better way of resolving conflict with them? I've got just the thing!
Kids:The Manual is filled with simple, step-by-step solutions to the problems that parents face with their children's behavior. End the frustration for both you and your child, and discover the surprisingly easy path to a conflict-free relationship with your kids!