My Baby is a Light Sleeper
One thing I've heard multiple times in my career as a sleep consultant is that baby is a "light sleeper," who wakes up at the slightest sound during naps or bedtime.
There's definitely some truth to the idea that some babies wake up easier than others, but it has more to do with their ability to get back to sleep on their own than it does with their biology.
Today, I'll explain why some little ones seem to be so easily woken up, and what you can do to improve their ability to sleep through the environmental noises that might be disturbing their naps.
Rather read than watch? Click here.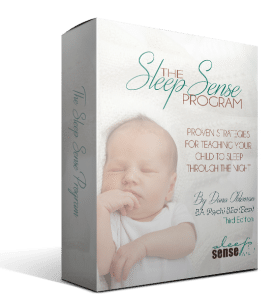 If your baby, infant or toddler is having trouble sleeping through the night, help is just a click away! The Sleep Sense Program has helped over 57,00 parents to get their kids sleeping 11-12 hours through the night AND taking long, restful naps during the day. If you're ready to get started today – I'm looking forward to helping you!