The Importance of Being the Boss
From the time they're toddlers until they're fully grown, kids are likely going to test their parents' authority. This isn't an attempt to take over control of the household, however much it may seem that way. It's almost always a testing of boundaries and a search for reassurance that the parent is in control, and giving up that authority is bad news for everyone in the family. Check out this week's video for more on why kids test the limits of their parents' control and what you can do to maintain it without causing conflict.
Rather read than watch? Click here.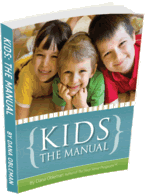 Are you tired of butting heads with your little ones? Looking for a better way of resolving conflict with them? I've got just the thing!
Kids:The Manual is filled with simple, step-by-step solutions to the problems that parents face with their children's behavior. End the frustration for both you and your child, and discover the surprisingly easy path to a conflict-free relationship with your kids!