The Power of Choice
The toddler years are a bit of a mixed blessing, to put it mildly. On the one hand, your child is undergoing some amazing intellectual, social, and emotional changes, which are really wonderful to watch.
But they also start to realize that they have some authority over themselves, and they tend to do a lot of testing to see what they can and can't get away with.
Giving your toddler some decisions to make will allow them to feel some control over their lives, but allowing them too much is likely to overwhelm them with decisions they're not equipped to make.
In today's video, I've got some great tips to help you provide your little one with some options in their day to day life that they can make without allowing them too much control too soon, or allowing them to make bad decisions.
Rather read than watch? Click here.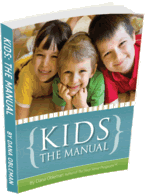 Are you tired of butting heads with your little ones? Looking for a better way of resolving conflict with them? I've got just the thing!
Kids:The Manual is filled with simple, step-by-step solutions to the problems that parents face with their children's behavior. End the frustration for both you and your child, and discover the surprisingly easy path to a conflict-free relationship with your kids!