What is the "Ferber Method?"
"The Ferber Method" is probably the most widely recognizable strategy for getting a baby to sleep through the night, and with good reason. It works.
However, it has also met with no small amount of controversy from critics who say that allowing a child to cry, even for a short period of time, can cause elevated stress levels and hurt the bond between babies and parents. (Evidence points to the contrary, but that's a debate for another time.)
Today, I'll explain exactly what the Ferber method involves and how it differs in one essential way from the Sleep Sense Program.
Rather read than watch? Click here.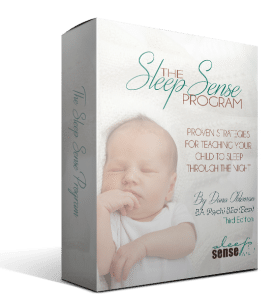 If your baby, infant or toddler is having trouble sleeping through the night, help is just a click away! The Sleep Sense Program has helped over 57,00 parents to get their kids sleeping 11-12 hours through the night AND taking long, restful naps during the day. If you're ready to get started today – I'm looking forward to helping you!