Why is my Toddler Being Aggressive?
Toddlers have the ability to melt our hearts with their vulnerability, innocence, and abounding cuteness. And that can make it all the more confusing when they suddenly start to hit, shove, or bite.
Aggressive behavior in toddlers is completely normal, as every parent knows, but that doesn't mean that it should be permitted, or that you can't take steps to prevent it.
In today's video, I'll look at some of the likely causes of aggressive behavior in your toddler, and give you some tips to help spot their triggers and address them before things get out of hand.
Rather read than watch? Click here.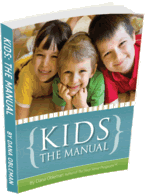 Are you tired of butting heads with your little ones? Looking for a better way of resolving conflict with them? I've got just the thing!
Kids:The Manual is filled with simple, step-by-step solutions to the problems that parents face with their children's behavior. End the frustration for both you and your child, and discover the surprisingly easy path to a conflict-free relationship with your kids!